**FACTORY SECOND** 1.5" Traditional Buckle in Black
Free shipping on all orders over $35 within the USA.  
NO RETURNS OR EXCHANGES ON FACTORY SECONDS.
The 1.5" Traditional in Black buckle factory second is going to predominately have underneath the latch discoloration issues. Any underneath the latch issues will never be seen when the buckle is attached to the strap.  
Customer Reviews
Write a Review
Ask a Question
Best buckle out there!
The look and feel of this quality buckle is great! I purchased it as a factory second, I have yet to see why it was sold as a second. I have since purchased 3 more buckles that were not sold as seconds and see absolutely no difference in the quality. I wished I would have purchased it sooner! It is a great product!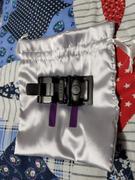 great quality foods
great quality foods
The imperfection on this factory
The imperfection on this factory second was on the back of the buckle, so no one will notice it. I almost couldn't find it! Love these buckles/belts.
Great quality
I have 3 belts and buckles, ive bought some for my sons, for my son-in-law and now i bought one for my neighbor. He loves it and says the quality it very nice.
Great product.
Great product.